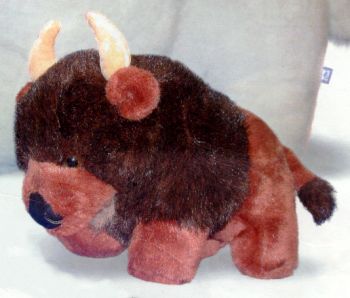 Eat it Bison.
I actually feel a little embarrassed that I was worried about this team. I guess the crappy Gopher football team has me conditioned to be worried about NDSU automatically. In this case, there was no need. NDSU wasn't much different than Riverside, and Winkelman and Woodside were like any other pair of decent players on a bad team - they score because they have to. Woodside was blanketed pretty well by Nolen whenever he was in there, with Nolen even taking it right from him when he was bringing it up the court at one point. He was a slow, good shooting white kid. Basically the kind of guy I would have loved a few years ago, but have been cured and recognize that he really isn't very good. And Winkelman was pretty much completely unnoticeable. Yet, because nobody else can score on that team, they still ended up with 16 and 17 points, many of which in garbage time.
On the Gopher side, Al Nolen continues to impress. He knocked down 3 of 4 threes he attempted, had five steals, played great defense, and ran the offense well. I was always nervous for next season, wondering who would play point if Nolen didn't work out. Now, granted we haven't seen him play in the Big Ten yet, and he did struggle against FSU (so did everyone), but I'm officially not worried about PG next season anymore - except for the backup.
Kevin Payton should really just transfer and make everybody happy, himself included. He looks lost most of the time when he's on the court, and he has zero semblance of an offensive game whatsoever. I don't know what's wrong with him, he averaged 22 per game in high school with a high of 51, but he should probably go ahead and try to figure it out at UM-Kansas City or something, not in the Big Ten.
Lawrence Westbrook,
or $LDUB,
played only fifteen minutes but scored 11 on 5-7 shooting. I'm starting to get a crush on him.
Danny Coleman scored 15 points, had 8 rebounds, and 4 assists. Sounds like a pretty good line, and if you hadn't watched the game, you'd be pretty impressed. Don't be. Coleman hasn't developed at all. Against this team, he should have completely controlled the game, and he most certainly didn't. He floats around, looks lost half the time, and just seems kind of out of it. If the Gophers are going to do any damage in the Big Ten at all, Coleman really needs to step it up, good stat lines only go so far.
McKenzie had 11, played a pretty solid overall game, Tollackson had 8 with four rebounds and four fouls - the fact that he couldn't stay out of foul trouble against NDSU is very worrisome. Also, there's hustle, and then there's stupid hustle. Tollackson at one point tried to dive to knock a pass away, missed by five feet, and the guy went in for an easy layup. Just play defense. Hoffbauer had 10, and keeps gaining confidence, which is good. He still can't play defense. Shamala got poked in the eye and for some reason the game stopped for like 20 minutes. I think it was a moment of silence for his eye. People love white people.
Also, if you sit next to me at the game please take note of a few facts:
1. The Gophers do indeed commit fouls. They also will travel, double-dribble, and lose the ball out of bounds from time to time. This is not a conspiracy, the refs are not out to screw the home town team. Yelling at the refs will not change the fact that they made the right call. My favorite is when you can't see the play at all because it's on the far end of the arena, but you're convinced "That god damn ref is just trying to screw us."
2. I'm not sure which look you're going for with that mustache, but somehow you managed to nail both 70's porn star and child molester, all in one. Bravo.
3. Stop yelling "pass the ball" constantly. I actually agree that in a motion offense, the ball should keep moving most of the time. However, when it gets dumped down low, or they call an isolation play, or someone gets the ball with a mismatch, they can take some time and make a play on their own. This is called "offense."
4. You suck and I hate you.