Did the Dodgers spend enough to win the West? I think so. Lincecum still looks like poo and the Dodgers keep adding players like they're team stacking in a fantasy league. My rankings for 2013:
1. Los Angeles Dodgers
2. San Francisco Giants
3. Arizona Diamondbacks
4. San Diego Padres
5. Colorado Rockies
Los Angeles Dodgers o/u 91 --- TRE says Over
Los Doyers won 86 games last year without a full year of Beckett, Crawford and new Angry Adrian Gonzalez. Not to mention a healthy Matt Kemp is back. They've also added Zack Grumpy and Korean Hyun-Jin Ryu to the rotation. They basically have about 7 dudes that would be the number one starter for the Twins. The rotation is now Clayton Kershaw, Greink, Hyun-Jin Ryu, Josh Beckett and Chris Capuano. Hanley is already hurt for a couple of months and Chad Billingsley is also on the DL. If there is a weakness on the team it may be the back end of the bullpen with Brandon League and Kenley Jansen.
Player to Watch: Yasiel Puig - The Cuban outfielder signed a 6 year, $36MM deal and ripped apart spring training like I tore apart my Easter ham. The 22 year old has been optioned to AA, but he could fast trak his way to the majors this year. Carl Crawford is not the healthiest dude in the world, after all.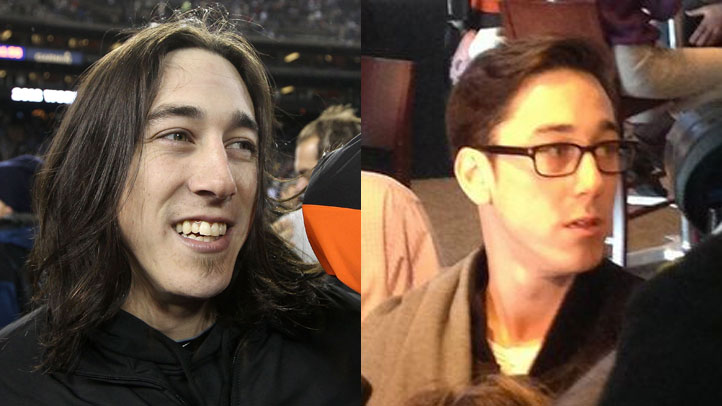 San Francisco Giants o/u 88.5 --- TRE says Under
Lincecum went to super clips
Got a haircut and cut that thing off his lower lip
Looks like Gordon Leavitt
So the lady's still will have it
No power so velocity still slips
The Giants will miss Melky Cabrera and Lincecum still isn't looking very good so I don't expect a bounce back. Brian Wilson is also gone...he's waiting to sign with someone later this year once he's healthy. It's basically a hairless year for the Giants. They still have a good all around team and Brandon Belt could finally breakout with a full year at 1B, so they are a playoff contender.
Player to Watch: Barry Zito - Zito was good for 15 wins and a 4.15 ERA despite a fastball that is about as strong as my 3 year old's. The guy makes $20MM this year and has a team option for $18MM that vests if he pitches 200 innings this year. It has a $7MM buyout, so either way you're pissing away some money, but you can bet if he's approaching 200 innings they'll be tapping on the brakes.
Arizona Diamondbacks o/u 82.5 --- TRE says Over
Kirk Gibson likes his players extra gritty
Too bad most of them are fairly shitty
With Mark Grace in the clink
for getting silly with the drink
Even the announcing will suck, what a pity
The rotation seems solid with Ian Kennedy, Wade Miley, Trevor Cahill and Brandon McCarthy. The lineup however, has a few questions especially with Adam Eaton now out with an elbow injury. Paul Goldschmidt is an up and comer at 1B, Miguel Montero is a solid catcher and underrated with the bat. Prado and Kubel are also underrated offensively and Aaron Hill is coming off of a monster year. So there are some good players, but they are featuring Cliff Pennington at SS and AJ Pollock is now in CF. Gerardo Parra is a great 4th outfielder, but I'm not sure he's a guy you want playing full time for you. And Prado would look much better as your second baseman than playing 3B as he's got very little pop.
Player to Watch: Paul Goldschmidt - The JewBear is 6'3" and 250lbs and hits BOMBS. In his first full year he hit .286 with 20 homers and a whopping 18 stolen bases. He also cranked out 43 doubles. Look for a lot of those doubles to turn into homeruns this season.
San Diego Padres o/u 74.5 --- TRE says Under
All-star Headley jams his thumb on a base
Jed Gyorko comes in to replace
It's pronounced jerk-o you fool
and mocking its cool
Just try not to do it to his face
The Padres have been looking up in the standings for a few years now and I don't think it changes this year especially with the Headley injury news. Their rotation in subpar with Volquez, Richard, Stults, Marquis and Tyson Ross. Cory Luebke is an interesting upside starter, but he has to get healthy. The bullpen is also scary with perennial DL-guy Huston Street at the back end. With Headley, Yonder Alonso, Cameron Maybin and Everth Cabrera they were building a decent young core of quality bases guys. However, none of the others have made the leap like Headley did and I only think Alonso has the capability to do so. Carlos Quentin can hit, but needs to DH somewhere and Yasmani Grandal is an intriguing catcher option when he's not juicing.
Player to Watch: Jed Gyorko - Gyorko is a 3B that was blocked by Headley pre-injury so he's been busting his butt trying to learn second base. Now that Headley is out he's back over to the hot corner. He hit 328/380/588 with 24 homers in 92 games at AAA last season. He's not super big, but he has a great swing and if he's not dicking around with position changes too much he could have an impact.
Helton Mug Shot>>>>Grace Mug Shot
Colorado Rockies o/u 71.5 --- TRE says Under
The Colorado staff is held by duct tape
The silver kind not the one with the great ape
If Tulo is healthy
and Helton's not relfy
The cellar they might just escape
The Rockies' staff has 3 pitcher trying to return to form in Chacin, De La Rosa and Nicasio and that's the plus side of their rotation. The rest is Jeff Francis and Jon Garland. Carlos Gonzalez and Troy Tulowitzki are legit stars though even though they are banged up a lot. Wilin Rosario and Dexter Fowler are young guys that are looking to make the next step from their breakout 2012 seasons. Fowler is an OBP machine in CF and Rosario hit 28 bombs at catcher. I'd like to see them sunset Todd Helton's career and move Cuddyer to first so they can get Eric Young Jr on the field. He has blazing speed that the team could use.
Player to Watch: Nolan Arenado - It seems like I'm always talking about the next 3B prospect in Colorado. From Chad Tracy to Ian Stewart and now Arenado. Arenado has yet to have a AAA at bat, but he's already the best third baseman they have and if Pacheco and Chris Nelson can't cut it, there's a decent chance Nolan is up by mid-season.