Wins: 4
Losses: 0
:confetti:
Holy crap. The Gophers cruised through their non-conference schedule to a 4-0 record. They're a mere 2 wins from being bowl eligible and it isn't even October. The Gopher defense appears to be legit as they stifle another throwing quarterback. The d-line was in Nassib's face and hit him so many times that he now likely has nightmares that cause him to diarrhea the bed. You can't get that out of the sheets, either.
This Saturday, the Gophers head to Iowa in a game that I tabbed in my pre-season preview as "winnable" for the Gophers. I could be sucking down the Kool-Aid with extra sugar, but now all B1G games appear to be winnable, this one [still] included. It's true, everyone sucks.
Vegas still inexplicably has the Stinkeyes a 7 point favorite at Kinnick. This is odd because Sagarin and the like have it Iowa -2 or thereabouts. Think about this for 4 seconds; Iowa is 93rd in the country in passing (202), 72nd in rushing (155) and 107th (20.5) in points for and they've played Northern Illinois, Iowa State, Northern Iowa and Central Michigan! They're 38th in points against (18.5), but again, look at who they've played. Plus, that 9-6 barnburner against ISU helps a bit. They're coming off a 32-31 loss to Central Michigan. FYI, Central Michigan was projected by most outlets to be a MAC bottom feeder.
In other words, Iowa played a non-conference schedule similar to the Gophers, but with much more disastrous results. The Gophers are getting no respect here, so it's up to them to go Shede on Iowa here.
Going Big Shede
As a Junior, Iowa quarterback James Vandenberg had a pretty good year. He threw for 3000+ yards and 25 TDs with only 7 interceptions. So far this year he has just 808 yards passing and 1 TD against 2 interceptions. Keenan Ivory Davis and Kevonte Martin-Manley are the two big targets at WR with CJ Fiedorowicz as the 6'7" light pole in the middle.
The running game was featuring sophomore Damion Bullock, but he'll miss a second consecutive game due to a head injury. Freshman Greg Garmon has been dealing with an elbow injury as well. The last two games for Iowa have featured sophomore walk-on fullback Mark Weisman. Weisman has rumbled for 330 yards and 6 TDs in the last two games.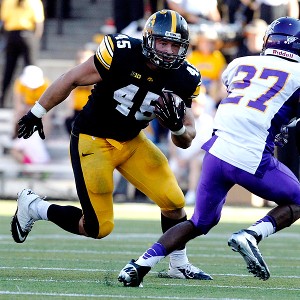 Weisman mid-rumble.
The Iowa defense is one of the great mysteries in this game. Historically, Iowa has produced some very good defenders. As mentioned their overall defensive numbers look good, but 32 points to Central Michigan? Junior LB James Morris has 40 combined tackles through 4 games. Senior CB Micha Hyde also racks up the tackles and has 7 career interceptions for Iowa.
Prediction
So, everyone isn't on the bandwagon yet. There are some who are though.
Tom Deinhart and Brent Yarina at BTN
are both predicting Gophers wins (as are 65% of voters on the poll there).
Brian Bennett and Adam Rittenberg of ESPN also picked the Maroon and Gold this week.
Note: Over lunch I read that Randball via the Strib called out these expert picks as well. FML for thinking I'm making an original point.
The Gopher pass defense has proven themselves to be strong, but this week the onus will likely be on the run defense. Weisman needs to be held in check in addition keeping Vandenberg under duress. My new hero Adam Rittenberg says that alongside Purdue and Michigan State the Gophers have one of the three best defenses in the conference. I predict Weisman has trouble running against the Minnesota front four. In fact, I expect Ra'Shede Hageman to once again impose his will on the offensive line and make it a very long day them.
Shortell will get his second consecutive start after being serviceable last week against Syracuse. After cutting off Ryan Nassib's head post-game, he has absorbed even more passing excellence. There can be only one. This will help him to find a couple of throwing scores in a relatively tight contest.
Gophers 20, Iowa 16
Absurd Hawkeye Fan Comments of the Week:
TRE says: So you're saying there's a chance????
83Hawk (on Iowa's Rivals board) : "Not predicting the score, but Kirk is one of the best coaches in the country. He will have a masterful gameplan and the team will be ready to play. "
TRE says: Central Michigan masterful or Iowa State masterful?
Whinny (Iowa Rivals Board): "Earth to Glen Mason: Iowa has not lost one game in conference play. So how that translates to being out of the Legends race boggles the mind."
TRE says: I think it MIGHT BE because you guys have laid down and vomit volcanoed on yourselves twice already.
Other Notes:
- The Tao of
@BIG_shede
: "She really is CRAZY!!! She even said so herself"
- Bryce Harper is the 2nd teenager ever to reach 20 homers in a season.
- The Twins are still not in contention.
- I've watched 3 episodes of that show with that dude from Friends where he's a sports radio personality that lost his wife. (Go On?) He looks creepy; like he had a bunch of plastic surgery and wears a ton of makeup. Let's call it the Jerry Jones Face. Anyway, there's a crazy beardy guy on the show that rules.