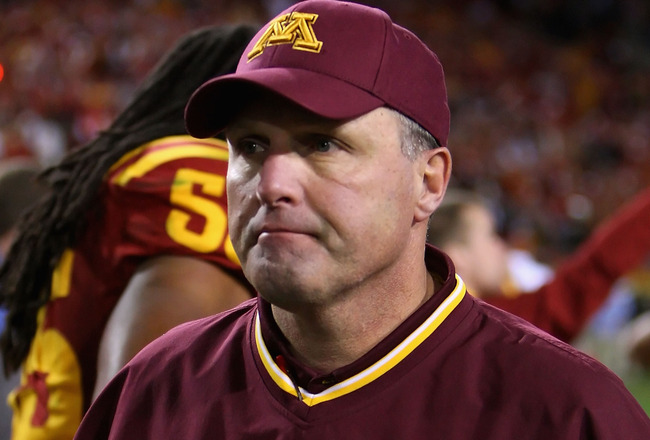 Is it happening again?

It might be. Although last week's game against UNLV was too close for comfort, at least they did actually win. I was at the game and there was a pretty fantastic turn out. It turns out Gopher fans like to gamble and drink and possibly visit the chicken ranch. If you think Gopher fans are apathetic you should see the UNLV fans. Attendance was reported at 16,013, approximately 5,000 of which were Gopher fans. It SEEMED like it was half and half with Minnesota faithful being much louder. Then again, I started the morning with a jimmy buffet and a pitcher of bloody marys and never looked back.
There were bright spots beyond the win in the game. Both lines played pretty well, the running game was solid, the secondary looked pretty good including Derrick Wells earning both the B1G and National defensive player of the week awards. Some wise blogger said in his week 1 preview that this game would be too close for comfort and it isn't because the Gophers aren't more talented, because they are. The combo of traveling to the west coast, playing primetime and on a Thursday night certainly caused their fair share of nerves. Many of MarQueis Gray's passes looked like me after 3 hours of tailgating. He was often overthrowing receivers and he was lucky to only have one interception in the game. Receivers were frequently open deep, a couple of times Gray saw them and threw a rocket ship right over their heads. These missed passes were what allowed UNLV to hang around and make this a game. UNLV was ready to roll over and die from the beginning, but they were allowed to hang around.
Anyway, that's over and we WON. Northwestern and Iowa had some close scrapes too. Michigan got Bama'd and Penn State got stomped by the Ohio Bobcats.
Oof.
Next on the schedule is a home game against the University of New Hampshire Wildcats. The super original Wildcats moniker features a mascot named "Wild E. Cat". UNH has about 15,000 students. The students are 57% female! Famous alumni include Carlton Fisk, Chip Kelly, some hockey players and the second vetrinarian in space. UNH is also the alma mater of George O'Leary. It is the place where he famously "resume padded" his way to 3 letters at a school where he never played a game, thus pissing away the head coaching job at Notre Dame. Then Mike Tice hired him as the DC for the VIkings for a couple of years before he moved on to the University of Central Florida.
New Hampshire doesn't appear to be your typical FBS cream puff. First off, they run a fast spread offense that is a carryover from when Chip Kelly (you know, the visor guy at Oregon) was OC from 99-06. This may affect the Gophers defense rotations as ther may not be time to rotate subs in as easily as last week.
More bad news comes in the form of UNH's recent history against FBS opponents. Since 2004, they've beaten Rutgers, Northwestern, Marshall, Army and Ball State. They lost to Pittsurgh in 2010 and were stomped by Toledo in 2011. This doesn't appear to be a team that is blinded by the bright lights and big cities of their more well known opponents. They are #14 or so in the FCS.
The Coaching Staff
Head Coach Sean McDonald has been with the Wildcats for 14 years, the last 8 of which he's made the FBS playoffs. "Playoffs?" /mora He also has 8 years as an assistant at New Hampshire. He graduated from New Hampshire. Listen, this guy really likes New Hampshire, ok? DC John Lyons enters second season with the Wildcats, and is formerly the HC at Dartmouth. OC Ryan Carty enters his first year as OC, but has been with the team for 6 seasons. He's the young buck on the staff, but I bet McDonald and Lyons could both whip his ass because of their old man strength.
Sean Goldritch, CAA Rookie of the Week!
The Offense
As mentioned, UNH runs "the speed spread" which relies on a lot of receivers and a quick passing game. The Gophers once again face a redshirt freshman trigger man in Sean Goldritch (6'3", 205). Goldritch was 21-31 in his first career start, throwing for 193 yards. He added a team high 71 yards rushing on 10 carries. Sophomore WR RJ Harris appears to be the main target after going for 12-102 receiving. He also added 57 yards on the ground. He earned the FCS Golden Helmet, which I guess is like the player of the week. So, Gopher defense, keep an eye on #15. Jimmy Owens, Chris Setian, and Nico Steriti all ran for TDs last week against Holy Cross. Setian and Steriti each had 12 carries. Something called Joey Orlando also had 100+ and 2 TDs receiving.
The key for the Gophers on D is going to be strong tackling and pressure from the defensive line. The spread involves a lot of quick passes. With 4 and 5 receivers out on the field, it sometimes only takes one tackler to miss for a huge gain. Since the passes are quick, it often takes the d-line out of the picture, so they need to get their hands up and if there's any hesitation by Goldschlager they need to make him pay. This is a great type of game for the raw, bear-like strength of Ra'Shede Hageman as collapsing the pocket can really affect these throws. The linebackers have the unenviable task of helping out in coverage and watching for the QB run or draw play.
Finally, a key to stopping the offense will be the fans making noise. Some grumpy old dudes will have to put down their walkers to get up and cheer a bit. Allegedly, New Hampshire only used 300 of it's allotted 3000 visiting tickets, so Gopher fans have the opportunity to make a big impact on how well this no huddle/sugar huddle type offense runs. 5,500 freshman were given free tickets to fill up our anemic student section, so hopefully they make some noise in between trips to the beer garden with fake IDs. (Don't get arrested, you guys.)
The Defense
The defense is led by linebacker Matt Evans who had like a billion tackles last year (see really old video above) and was the FCS defensive player of the year. Senior CB Dontra Peters is a convert from RB and had an interception against Holy Cross; as did Junior S Manny Asam. Peters also returns kicks. Junior CB Chris Houston led the team in interceptinos with 6 last season. Senior LB Alan Buzbee had about half of the tackles Evans had with 88 last season. Junior Chris Beranger was second on the team with 142 tackles. Senior Jared Smith is a stalwart at defensive tackle.
This is another game where the level of execution for the Gophers is what is most important. Sure, these guys have lots of tackles and decent stats against the Richmond Spiders and Holy Cross Crusaders, but 60 minutes of the Gophers o-line SHOULD grind them to dust.
The Prediction
The first quarter is going to be hugely important in this one. I get the impression that Sean Goldritch won't flounder around at QB like Nick Sherry did last week. The Gophers' running game is a key because it will give the defense much needed rest. Again, this is a situation where the Gophers have the better players; the bigger, stronger athletes. This could be another big game for Derrick Wells as he'll have plenty of opportunity to make big plays, as will the other members of the secondary. In the end, despite solid play from New Hampshrie the Gophers will have just too much:
Gophers 34 - Wildcats 24