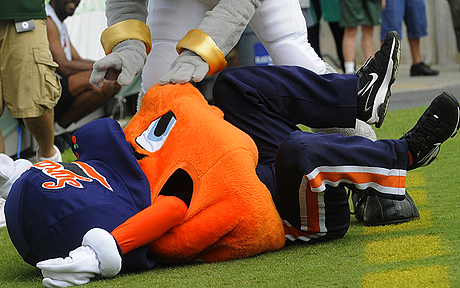 Otto is down!

The Gophers are 3-0 now after a somewhat convincing win over Western Michigan. Hey, they covered as TREstradamous predicted. There's still plenty of room on the bandwagon though as we head into week 4. This is due to a number of questions surrounding our heroes. I'll answer those questions by making some stuff and take a look at Syracuse through the eyes of a Syracuse football message board.
The Cuse are 1-2 after blowing a week one lead at home against Northwestern in the first week, getting semi-drubbed by USC in week 2 and coming back in the second half against Stony Brook for a win in week 3. Behind the arm of 6'2" senior quarterback Ryan Nassib, the Orangemen are #3 in the nation in passing at 379 yards per game. Nassib has 9 TDs against 3 interceptions. He's thrown for over 300 yards in each game and threw for a whopping 482 yards against Northwestern. Too bad they blew that game at the end.

Nassib is down!

Besides Nassib, other key players on offense include senior WR Marcus Sales, who has caught 25 of Nassib's 97 completions. Junior RB Jerome Smith has 44 carries and a 4.0 ypc average. Junior Prince-Tyson Gulley is kind of the scat back companion to Smith. He's just 5'9", 180lbs, but has a 5.0 ypc and has 14 receptions and 3 total TDs. Gulley, who also returns kicks is the runner up for coolest name on the team behind frosh WR Quinta Funderburke. Apologies to Siriki Diabate and Shamarko Thomas. The offensive line is pretty solid; a senior RT and the starting LG and C are all back. Last year's all Big East LT is out though with issues in his surgically repaired left shoulder. Syracuse is another team that runs one of these high-paced, no huddle-ish type of offenses. Everybody's doing it!
Syracuse has a defense in theory, but they have given up nearly 34 points a game in their first 3 and one of those teams was Stony Brook. That's good for 97th in the FBS. Sophomore starting CB Brandon Reddish is feeling bluish and might miss the game on Saturday with the dreaded "lower body injury". That leaves Keon Lyn and Ri'Shard Anderson who will be backed up by a couple of freshmen. The aforementioned Shamarko Thomas is the starting strong safety and a good tackler. Dyshawn Davis started at WLB as a freshman and has 17 total tackles this year. Junior Marquis Spruill starts in the middle and is the team's leading tackler with 21 total tackles. For the most part they run a 4-3 defense. The D-line has experience, but is not loaded with playmakers.

Bring out the gimp.
So, we all know last week's story by now, except perhaps for DWG since he left at the half. Queis goes down and the Auburn Bomber Max Shortell comes in and lights up the scoreboard Tecmo Bowl style to put the Gophers on top of Western Michigan. All signs point to Max playing the entire game on Saturday with whispers of Marqueis being available in a pinch. Freshman Philip Nelson is Shortell's backup, but the last thing the Gophers want to do is us him for a part of this game and burn his redshirt. There are apparently plans in place if Shorty has to come out for a few plays. Everyone suspects it would be former high school QB KJ Maye, but what if it's the hulking Moses Alipate? Man, that would be great. Maybe give him a can of Spam and watch him eat it like Popeye to give him the go-go juice. Wait, is Moses even Hawaiian?
The Gophers defense allowed just 162 passing yards per game through 3 games, which puts them 5th in the nation. They are one of just three undefeated teams remaining in the Big Ten. Certainly, they haven't played the opponents that others have, but they're getting wins and clearly improving. They are set to play their second late game of the year in front of a packed house (dare I say it?) at TCF. Their last night game was a scary affair out in the desert and this one could be just as frightening. With the distractions that are going on this week due to injury and hype, I'm predicting the
Gophers lose this one 34-31.
I hope to the baby jesus I'm wrong and Shortell throws 112 touchdowns and I pee my cargo shorts with joy, but there it is.
Silly Comments from a Syracuse Football Board
As a throwback to my old blog I went out and found some of my favorite comments from the football board at
Syracusefan.com
"With there starting QB out ( 2nd leading rusher) and there starting Center out.. I like our chances in this game. There back up QB I read is more of a pocket passer and our defence is going to be licking there chops to get at him.. I see the game being a 2pk and would take 'Cuse on that.. " -OrangeFreek
TRE says: Homophone fail.
"I'm not sure I'd call it [Gopher game] a must-win in the sense that I suppose you could lose it but still win the big east or win a bunch of BE games and the Mizzou game, etc." -billsin01
TRE says: billsin01 aka Capt. Optimism. Win the Big East? I know it's like winning the Sun Belt these days, but c'mon.
"Have you actually watched Minny? They are awful ... we stuck with a better USC squad this season without USC making a ton of mistakes ... if you watched the USC/Minny games you would know that USC did everything humanly possible to cough those games up ... they couldn't run the ball on Minny..." -wfschrec
TRE says: This one just goes on and on about how bad the Gophers were IN PRIOR YEARS. At the same time he says how good he thinks Syracuse is going to be this year when they have been soft, warm poo IN PRIOR YEARS.
"I kinda wish we were playing Gray. He's like a lobotomized BJ Daniels." - BlackNight76
TRE says: Ok, now that's just funny. Gray>Daniels though.
***BREAKING UPDATE***
Screw it, after reading these Cuse boards I can feel the fear in their hearts and I am now changing my prediction to a Gopher victory. Can you change prediction mid-blog? I say yes.
Gophers 34, Orangeballs 31
Other News and Notes:
- If you don't know and love Ra'Shede Hageman, you haven't watched a minute of Gopher football this year. Well, now he's active on twitter, so get ready to delve into the mind of a man that can throw opposing linemen through walls:
https://twitter.com/BIG_shede
The Tao of Shede says
"If you want something so bad,It's not worth it. Go play football or somin."
Epic.
- Jerry Kill on who gets to wear #51 in honor of Gary Tinsley each week, "I leave that up to Keanon [Cooper], I leave that up to the linebackers." Pretty neat.
- The Killers have a new album. Yes, they're still terrible. Avoid at all costs.
- I watched Revolution on DVR yesterday. This is the new post-apocalyptic show on NBC. Basically an EMP blows out all power, so peeps are riding horses and fighting with swords and bows and stuff. They fast forward 15 years to a struggle between the militia and some kind of normal community. The fast forward move is always key so you can do all kinds of flashbacks. JJ Abrams is the executive producer and although I managed to avoid Lost, I think it was flashback central. Anyway, the first episode was kind of predictable and there are some pretty wooden characters. My hopes aren't high, but I'll watch a couple more episodes just in case a story develops. (hint to self: It won't)
- Darko signed a deal for the vet minimum to play a bench role with the Celtics. I'll miss his willingness to slog around on the inside and block some shots. I won't miss his lack of commitment to getting himself in shape and his stupid fouls. It's all PEK everything now.
- Josh Willingham's 35th homer is the most by Twin since 1970. Yowser. And to answer your question, yes they are still playing baseball. Stay tuned for our MLB Playoffs preview blog!