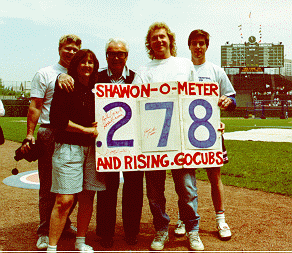 The Sidler can't believe Shawon Dunston got a fucking vote for the Hall of Fame. Apparently the Shawon-O-Meter gets a vote, who knew.
Anyways, the ignorant, insular organization known as the BBWAA made their Hall of Fame selection today and at least the player they picked belonged: Goose Gossage, who was either the best or second-best closer/relief ace in the league throughout most of his career.
That's the only player the BBWAA found worthy of making the Hall. No "Circle Me" Bert Blyleven, Tim Raines, Alan Trammell, or Mark McGwire. Bert and Raines should be no brainers but lack the headline numbers these fat slobs need to see, and I can handle neither Trammell or McGwire not making it yet even though both are worthy in my opinion. I would have been OK The Hawk, Andre Dawson as well, but only if he'd agree to enter the Hall with an Expos cap.
My biggest problem with the BBWAA's voting comes with the guy second on the list, Jim Rice. According to the East Coast media, pitchers were literally shitting their pants the second Rice stepped into the box in the late 70s. He had a killer 77-79, no doubt, but from there his resume gets spotty and there's no way he's more deserving than Bert, Rock, or even the Hawk. If Rice had put up those stats on the Texas Rangers, no one would care, but since he's a former marquee player from Boston, he gets votes.
But whatever, this dumb group includes Woody Paige, who apparently votes for any player on the ballot that played a game as a member of the Rockies. That fact along makes me not really care who they deem worthy...