I've been pretty impressed with
Ryan Pressly
this year. He has a sub 3.00 ERA in more than 40 innings pitched in middle relief this year. As you may recall, he was a Rule 5 draft pick by the Twins last year and per league rules must be on the major league roster all year. This rule was created as an opportunity for minor leaguers that are not on the 40 man roster and have been with the team for either 5 (18 year olds) or 4 (19 and up) years. Basically this rule gives some players an opportunity to play when they might otherwise continue toiling away in the minors. By the way, the Rule 4 draft is just the regular June amateur draft. The most often discussed Rule 5 star that you may know is
Johan Santana
. Unless you stumbled upon this blog searching for a Pirahnaconda review. However, there are many other notable Rule 5 selections.
Here's a countdown of my top 20 rule 5 picks of all time:
20. Alexi Ogando, 8.3 WAR:
2011 All-Star has a 3.09 career ERA bouncing between starting and the bullpen for the Rangers. The Rangers took him from the A's in the 2005 Rule 5 Draft.
19. Scott Podsednik, 6.9 WAR:
Podsednik was a .281 career hitter and stolen base monster. He stole 309 bases over his 11 year career, stealing more than 40 on four separate occasions and once stealing 70 for the Brewers. He was an All-Star in 2005, his first season with the White Sox. He was a Rule 5er only in name as he was signed and released a billion times in his career. The dude still made almost $10MM and is (was?) married to Lisa Dergan, so don't feel bad.
18. Everth Cabrera, 5.8 WAR:
Drafted in 2004 by the Rockies and then selected in 2008 by the Padres via Rule 5. Everth is just 26 and is really coming into his own as the starting shortstop for the Padres. He's an elite base stealer, with 75 steals over the last year and a half. He was recently named to his first All-Star team in 2013 by hitting 291/371/397 with 31 steals in the first half.
"Ok Shane, give me sexy"
17. Shane Mack, 21.6 WAR
: The only player on this list that wasn't an all-star. Mack was the 11th overall pick in 1984 and a member of that year's silver medal Olympic squad. In 1990 he was selected by the Twins and went on to hit .326 over 125 games that year. Mack was a career .299 hitter and great outfielder; his best years were his 5 with the Twins where he hit 309/375/479. His best single season was 1992 where he hit 315/394/467 with 16 homers, 75 RBI, 101 runs and 26 steals. He led the league in HBP (15) and was 4th in hits with 189.
16. Joakim Soria, 12.7 WAR:
Soria only has 2 innings pitched so far this year after coming off of
Tommy John
surgery, but in his five prior years he amassed 160 saves for the Royals. Like Mack, Soria was selected from the Padres' system in 2006.
The Mexicutioner
has a career 2.38 ERA and 1.037 WHIP and is a two time All-Star.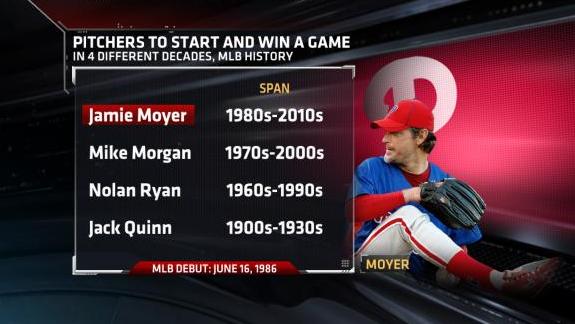 Who is the crappiest pitcher to win a game in 4 decades?
15. Mike Morgan, 28.9 WAR:
Morgan played baseball from age 18 to age 42 starting in 1978. He played for 12 different teams and while he was often effective; he never stayed with one team for more than four years in a row. He was 141-186 over his career with a 4.23 ERA and a 1.40 WHIP. Morgan was selected 4th overall in 1978 by the A's in the June draft and immediately made his first appearance on June 11th at age 18. In 1980 he was traded to the Yankees and in 1982 he was traded to the Blue Jays along with
Dave Collins
and
Fred McGriff
for
Tom Dodd
and
Dale Murray
. Oops, Yankees. In December of 1984 he was removed from the 40 man roster and the Mariners selected him in the Rule 5 draft. Morgan threw 200+ inning 6 different times and was an All-Star in 1991 when he went 14-10 with a 2.78 ERA for the Dodgers. His best season may have been 1992 when he went 16-8 with a 2.55 ERA for the Cubs.
14. Dave Hollins, 17.7 WAR:
Yet another player that was taken from the Padres via Rule 5, Hollins played his first 6 seasons in the majors with the Phillies. Hollins was oft-injured and only played over 100 games 6 times in his career, which ended at age 36 due to SPIDER BITES! Apparently the bites caused complications with his diabetes (die-a-BEE-tus). The switch hitter was a part of the 1993 Phillies softball team that lost to the Blue Jays in the World Series. Hollins was a career 260/358/420 hitter, but his best season was in 1992 when he hit 270/369/469 with 27 homers, 93 RBI and 104 runs.
13. Kelly Gruber, 16.5 WAR:
Drafted 10th overall in 1980 by the Indians and subsequently selected by the Blue Jays in 1983. Gruber played in parts of 10 seasons; 9 of which with the Jays. He was a two time All-Star and was considered a good defensive third baseman. His best year as a pro was 1990 where he hit 274/330/512 with 31 homers and 118 RBI. He was fourth in MVP voting that season and also won the Gold Glove and Silver Slugger awards.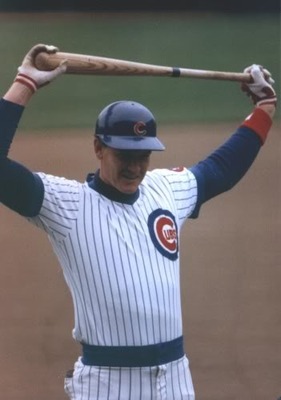 Look at those pecs!
12. Jody Davis, 15.8 WAR:
Selected by the Cubs in the 1980 Rule 5 draft, Davis was the Cubbies' signal caller for parts of 9 straight seasons. He was around during the WGN hey-day and was kind of a masher -- or was the wind blowing out? Davis hit 17+ homers in 5 straight seasons, clearing 20 twice. He was a two time All-Star and received one gold glove award. He was in even in the MVP voting twice, including a 10th place finish in 1984 when the Cubs won the eastern division title. 1983 was probably his best year; he hit 271/315/480 with 24 homers and 84 RBI. Although he did have a whopping 21 passed balls that year. WTF, Jody? He was 8th in extra base hits that year and caught 150 games; and probably a boatload of them were under the Chicago sun.
11. R.A. Dickey, 14.4 WAR:
This was the hardest guy to place on the list as he's really only had 2 or 3 good seasons, but one of them was fantastic and he earned the
Cy Young
for it; becoming the first knuckleballer to win the award. In 2012 he went 20-6 with a 2.73 ERA, 1.053 WHIP and 230 strikeouts. After his fantastic 2012, he has since been traded to the Blue Jays where he's 8-9 with a 4.77 ERA. Dickey flopped as a conventional pitcher over several season with the Rangers and was actually selected via Rule 5 by the Mariners after signing a minor league deal with the Twins in November. Dickey is kind of an interesting character. His at-bat walk-up music is the theme from the Game of Thrones. In 2011 he climbed Mount Kilimanjaro and raised $100,000 to fight human trafficking in India. He released an autobiography in 2012 and has a deal for more books on the horizon.
5'9", 6'2" with the tall hat.
10. Bip Roberts
,
WAR 20.5:
Leon Joseph Roberts was a Pirates 1st round selection in 1982, but was later drafted in the 1985 Rule 5 draft by the Padres. Finally, the Padres are on the other end of this thing! Bip played for 12 seasons in the majors, hitting 294/358/380. He hit over .300 (100 game min) 5 times. His best season was 1992 when he hit 323/393/432 with 44 steals. He was an All-Star that year and was also 8th in MVP voting. Bip currently is the head coach of the Skyline High School baseball team and is a co-host on the Giants pre-game shows.
9. Shane Victorino, 26.9 WAR:
The Flyin' Hawaiian was a long time Phillie and is now a member of the Red Sox. Originally drafted by the Dodgers, he was actually selected two separate times in the Rule 5 draft. He was taken in 2002 by the Padres, but was returned in May to the Dodgers, but then he was selected by the Phillies in 2004. From 2006 to 2012 he was a part of the Phillies' outfield. He is a career 276/340/428 hitter and has 210 career steals and 93 career homers. He has three gold gloves, two All-Star appearances and has led the league in triples twice.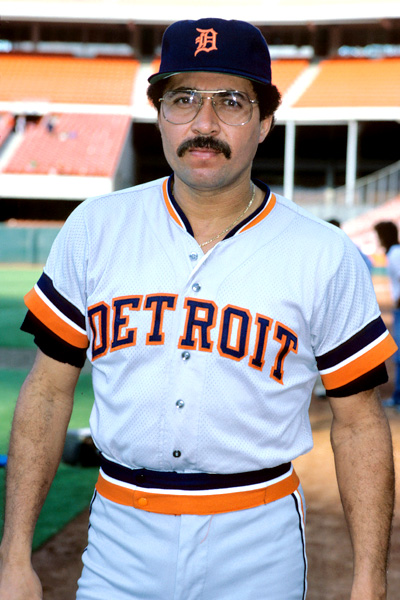 Just incredible.
8. Willie Hernandez 16.6 WAR:
Three time All-Star and 1984 Cy Young award winner. He was drafted in 1973 and taken by the Cubs in the 1976 Rule 5 Draft. He played 13 years and had 744 appearances, compiling a 3.38 career ERA and 1.25 WHIP. He had the fro, the stache, the glasses...awesome.
7. Darrell Evans, 58.5 WAR:
This one feels kind of like cheating because it was the 1968 Rule 5 draft which I don't think is much like today's version, so I'll just have Darrell here at #7. 414 career homeruns, including eclipsing 40 twice. He and
Reggie Jackson
are the only players with 100+ homers for 3 different teams. At age 38 he was the oldest player ever to lead the league in homers with 40.
6. Dan Uggla, 20.5 WAR:
Last season was the first year that Uggla didn't hit 20 homers as a pro. Sure, he's a stone hands at 2B and strikes out like he gets a dollar for each one, but he is one of the most prolific home run hitters among second baseman. He's a three time All-Star, and he's led the league in errors at 2B three times. He also lifts.
Best. Contract. Ever.
5. Bobby Bonilla, 30.1 WAR:
Bobby-Bo was a 6 time All-Star and a part of the Pittsburgh Pirates teams with
Barry Bonds
that were so successful, but never won a title. Although he did win a ring in 1997 with the Marlins. Bonilla is still getting paid by the Mets in one
of the weirdest contracts ever.
Bonilla was actually originally drafted by the Pirates, but then the White Sox took him in the 1985 Rule 5 Draft. Pittsburgh ended up trading
Jose DeLeon
to the White Sox to get Bonilla back. For four straight seasons Bonilla was in MVP voting, finishing second to Bonds in 1990 and third in 1991 (Pendleton, Bonds). He hit 20+ homers 7 times, and was a career 279/358/472 hitter.
4. George Bell, 20.1 WAR:
Nabbed by the Jays from the Phillies in 1980. Bell was a 3 time All-Star and won the 1987 MVP award by hitting 47 homers and driving in 134 runs.. He gets a massive WAR downgrade because of his defense (-9.8), which kind of sucks. Bell was a career 278/316/469 hitter and walloped 265 home runs. His career went in the toilet fast as he was out of the league at age 33 -- makes you wonder if the Dominican born Bell was really 21 when he got his start.
3. Jose Bautista 22 WAR
: Let's face it, nobody wanted Joey Bats early in his career. He was drafted by the Pirates in 2000, then taken by the Orioles in the 2003 Rule 5 draft. Then he was waived in 2004 by the O's and the Rays picked him up. The Royals purchased him after that, then traded him to the Mets for something called
Justin Huber
. Then in 2004 the Mets traded him and
Ty Wigginton
to the Pirates for
Kris Benson
and
Jeff Keppinger
. In 2008 the Pirates traded him to the Blue Jays for a player to be named later. That player,
Robinzon Diaz
is now a 29 year old minor leaguer for the Brewers.
Since joining the Blue Jays, Bautista has been an All-Star each of the past 4 seasons (including this year). He led the league in homers in 2010 and 2011, hitting a combined 97 homers over that span. After dealing with a wrist sheath injury in 2012, he's back for more in 2013 with 20 homers and counting nearing the All-Star break.
Who wants body shots?
2. Josh Hamilton 24.8 WAR:
The 1999 #1 overall pick of the Rays was destined for stardom until he fell in love with crack rocks. In 2006, the Cubs took Hamilton for the Cincinnati Reds in exchange for cash (not crack). In 2007 Hamilton was every bit the superstar that many expected, hitting 292/368/554 in half a season. The Reds promptly flipped him to the Rangers for
Edinson Volquez
. Volquez had a great first year for the Reds, but ended up winning just 30 games over parts of 4 years for them.
Hamilton really took off for the Rangers with All-Star appearance in all five of his years in Arlington. He led them to the World Series in 2010 and 2011. He also was MVP in 2010 with a 359/411/633 line and 32 homers and 100 RBI. In 2012, his last year as a Ranger, he hit 285/354/477 with 43 homers and 128 RBI.
1. Johan Santana, 50.7 WAR:
Johan tops the list...for now. I think Bautista and maybe Hamilton could potentially get the top spot as their careers progress as it seems Johan has nothing left in the tank. In 1999, the Marlins took Santana from the Astros in the Rule 5 draft and traded him for Jared Camp to the Twins. Johan didn't do well in his first season with the Twins, posting a 1.82 WHIP and 6.49 ERA in 86 innings. In fact, it wasn't until 2002 that he started coming into his own. In '02 and '03 he split time between the bullpen and the rotation and had 306 Ks in 266 innings with good peripherals. By the end of 2003 he was already on his way to being the best starter in baseball and was actually 7th in Cy Young voting for going 12-3 over 158 innings. Over the next 4 years Santana collected two Cy Young Awards and went 70-32. As a Twin, Johan was 93-44 with a 3.22 ERA and 1.04 WHIP. He had one great year with the Mets and earned his 4th All-Star appearance. Ever since then he's been like a '70 Gremlin.
There are other players from a prior versions of the Rule 5 or the first year player draft that occurred in the winter such as:
Paul Blair
,
Rudy May
and
Reggie Smith
that would make this list. The rule seems to have evolved some though and players weren't nearly as well protected as they are in recent history. Even Hall of Famer
Roberto Clemente
was selected in a version of this Winter draft in 1954.