The NBA Draft is June 27th and the Timberwolves have the 9th and 26th picks. Let's look at what might be there at #9.
Flip Saunders has made it no secret that he has a burning desire for Indiana shooting guard Victor Oladipo. After working out some players on Thursday he hopped a plane to go see Oladipo in DC. Everyone knows that Oladipo is a good defender, but he's been climbing mock drafts based on his improvements in his offensive game. Oladipo would be a great fit for the Wolves, but is it better to try and get a big man at 9 and wait on a shooter until 26 given the depth there in this draft? Or do they just take the best available guy? Or dangle Williams in a deal to move up to get "their guy"?
Here's a vid of Oladipo scoring against no defenders:
BTW, I like those drills where they whack on the guy with pads while he's in the lane. Good stuff.
So, what do the Wolves need besides having everyone heal up and stop doing knuckle pushups? Here's the roster and their contract length:
PG:
Ricky Rubio through 14/15
Luke Ridnour through 13/14
JJ Barea through 14/15
SG:
Alexey Shved through 15/16
Malcolm Lee through 13/14
SF:
Andrei Kirilenko PLAYER OPTION
Chase Budinger FREE AGENT
PF:
Kevin Love through 15/16
Derrick Williams through 14/15
Dante Cunningham TEAM OPTION
C:
Nikola Pekovic FREE AGENT
Greg Stiemsma TEAM OPTION
Other FA/Release: Brandon Roy, Josh Howard, Louis Amundson, Wil Conroy, Mickael Gelabale
Official free agency negotiations don't begin until July 1, so the Wolves have some opportunity to be flexible in the draft. Needs still appear to be a shooting guard that can defend and shoot from the outside and a big man. Budinger is a nice option presuming he can bounce back, but I certainly wouldn't begrudge the Wolves trying to get a legit SF as Kirilenko plays a lot of 4 and is no spring chicken. Ridnour and Barea are both serviceable players as backups at the point -- unfortunately they've been pressed into much more service than you'd like. Shved also can play some point, so I don't think it's a huge need. There's some depth at the 4, even if Williams is moved. I refuse to list Williams as a 3 since he's proven he can't do it.
For the bigs, Nikola Pekovic is pretty much a must sign even though he'll cost the Wolves a lot of cash. Stiemsma showed some energy and defense at times, but I was surprised at how many mistakes he makes on the court as well. I do like his shot blocking, but if we score someone in the draft in might be worth saving the money it costs to bring him back. The Wolves have until July 17th to decide, so they can draft and even consider potential free agent options before making a move.
Looking at a bunch of mock drafts the consensus is Oladipo will be gone by the #9 spot. I've seen a couple of 8s, a 6 and even a 5 pick for him. If he's there at 8 would the Pistons move back a pick for the #26 selection? Maybe. Is it worth it? I lean a little more towards keeping the #26 and taking two stabs in a draft that seems to have a big group of guys that aren't separated by much.
For the #9, the mock draft group-thinkers almost all think that
CJ McCollum
out of
Lehigh
is the pick. McCollum is terrific with the ball in his hands and can shoot (51% from 3). He even got a Stephen Curry comparison from Hoopshype.com. He's also a big time transition scorer, which fits well with Rubio. What he doesn't have is size (6'3") and he's not much of a defender. He's also a senior, so what you see might be what you get. Here's an incredibly long youtube clip about him:
The odd man out on the four mocks I looked at had the Wolves taking
Shabazz Muhammad
, the 6'6" shooter out of
UCLA
. They must have assumed that Wolves brass where watching his 6 of 18 performance against the Gophers in the NCAA Tournament. Or the fact that he's now magically 20 instead of 19 years old. In other mocks I reviewed he's at #17 (twice) and #13th. Most consider him not an amazing athlete like an Oladipo, but he's a high volume shooter and some believe he still has upside. He also has Tourette's Syndrome which is pretty kickass. He's also a lefty with a beard, so obviously he's the next James Harden.
Another wing to consider is
Kentavious Caldwell-Pope
, a sophomore out of
Georgia
. Caldwell-Pope is right in that 9-13 range at the end of the lottery by most mocks. I've seen him in the 10 spot to Portland a few times. Paul Allen (Blazers owner, not homer Vikings guy) even attended a workout. Kentavious is a very good shooter and at 6'5" 205, he's got decent size. He's also a pretty great rebounder, notching 7.1 a game; which means he's not afraid to mix it up at least I guess. KCP is also considered a very good defender and kicked butt in speed and agility drills. I dig him and wouldn't mind him at #9 one bit.
There are also some big men that are near the #9 spot in the mock drafts. The bonus of taking a big instead of a wing is there are a lot of wings later in the draft that could be had at #26. However, if Nikola is signed and delivered, the SG/SF is the greater need. Here's a quick look at a few big men:
Zeller doesn't need to see to dunk
Cody Zeller, 6'11" Soph Indiana -- Zeller has been previously thought of as a sure fire top 5 pick, but his stock has slid in some circles. He looks like a big goofus but he's incredibly athletic for his size. He recorded a 33.5" standing vertical leap, which is like crazy high. In fact, it's the best by anyone over 6'8" in more than ten years. He shoots a nice jumper and runs like a mofo. He'd be a great change of speed with Pek banging around in the middle.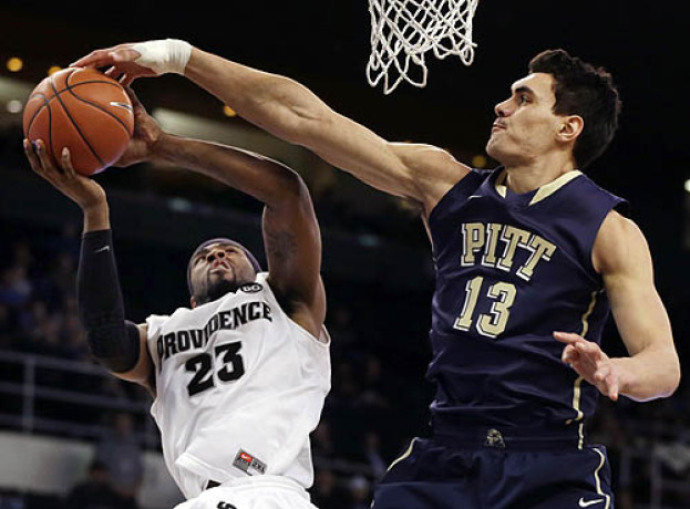 Steven Adams 7' Frosh Pitt -- Adams is a big bad man in the middle. The seven footer clocks in with a 7'4.5" wingspan and had a great combine where he flashed a pretty nice jumper. He also has gigantic hands. Adams is another player I'd be ok with in the 9 spot.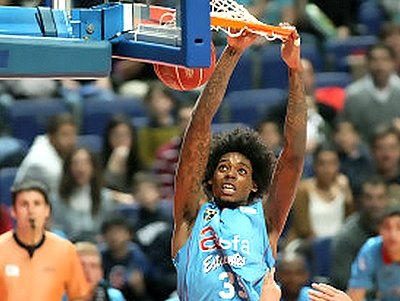 Lucas Nogueria (Bebe) 7' Spain -- Bebe has been linked to Philly at #11 in a few mock drafts after a recent good showing at the Eurocamp. He's athletic for a man with a 7'6" wingspan. At just 220 pounds his body is not quite ready for the NBA. He's about as high risk, high reward as it gets as he was previously though of as a stud in the making and then had a poor showing in 2011 at Eurocamp. I like the untapped potential, but not at #9 overall.
Kelly Olynyk 6'11" Junior Gonzaga -- I've seen Olynyk in the #15 range in mocks so I'm throwing him on this list. It could be the goofy hair, but he has a bit of a Luis Scola vibe to him. The NBADraft.net comparison is Fabricio Oberto, so there's that. He's getting a lot of "skilled" big man comments on the internet and he backed that up with 18.1ppg on 66% shooting. In addition to looking goofy he also has a freakishly short wingspan for his height. He's 6'10.75" without shoes and has 6'9.75" arms.
So there you have it. I'm at least 72% sure that one of these guys is on the Timberwolves come draft night (barring a trade). I'll take a look at the #26 pick next week.