Shortly after
my post about the #9 pick
, NBADraft.net changed their projection from McCollum to Kentavious Caldwell-Pope for the Timberwolves. Coincidence? I think probably.
When the Timberwolves have a pick this late in the first round, they have a tendency to trade the pick away. This isn't without reason because you can move back just a few picks and get a similar roll of the dice on a player with a non-guaranteed contract. In 2012, the 26th pick scaled in at about $900k guaranteed for two years with a team option for the third year. The Wolves aren't the only team with this master plan though -- which is why you see so much activity late in the first and early in the second.
#26 Picks in prior drafts:
2012 PF
Mason
Miles Plumlee - White Stiff
2011 SF Jordan Hamilton - Not so sharpshooter
2010 SF Quincy Pondexter - Somewhat useful bench guy out of Washington
2009 PF Taj Gibson - Key Bulls bench guy good/great defender
2008 PG George Hill - Solid enough PG, started for the Pacers last season after backing up for the Spurs
2007 PG Aaron Brooks - Backup PG, one good season for the Rockets
2006 PG Jordan Farmar - Has a nice vertical jump
2005 PF Jason Maxiell - Defensive minded backup big man
2004 SG Kevin Martin - Former Houston gunner that is now OKC 6th man
2003 SF Ndudi Ebi - Doodie Eeeebeee! NBA vets Kendrick Perkins, Leandro Barbosa and Josh Howard were the next 3 picks.
2002 SF John Salmons - Mediocre 3 that still gets quite a bit of time with the Kings. Has a beard like a billy-goat.
2001 C Samuel Dalembert - Long time starting center in the league - still starting with the Bucks
2000 PF Mamadou N'Diaye - Senegal sensation didn't amount to much. Marko Jaric went #30.
1999 PG Vonteego Cummings - 3 years in NBA, then a bunch overseas.
1998 SG Sam Jacobson - Sam is now 37, damn I'm old.
Surprisingly, I see only 5 flops here (Farmar, Ebi, N'Diaye, Cummings, Jacobson). Giving Plumlee, Hamilton and Pondexter incompletes; I see another 2 role players/bench types (Brooks/Maxiell). Gibson, Martin, Hill, Salmons and Dalembert either are or were starters or they are one of the first players off of the bench. So this pick over the last 15 years has shown to be somewhat useful.
This draft is considered by many to be historically bereft of elite talent at the top. However, I've also heard and read that there is talent to be had later in the draft, so I guess there's a perceived plateau of talent. Of particular note are the number of guards that are likely to be available later in the draft. Let's look at who the mock drafts have the Wolves taking here and some other players I think should be considered:
Mock Picks I've Seen:
Tim Hardaway Jr., SG - Michigan
-- 6'6" shooting guard and son of the Killer Crossover has a good jumper but doesn't strike me as being super explosive. The Junior was surprisingly not super great off the dribble, but rather a spot-up type shooter. The Wolves need shooters, but Tim Jr. strikes me as one of these players that kind of is what he is. Not a lot of upside, in my opinion. NBADraft.net says his comparison is Wesley Person -- the jumper is very reminiscent of Wesley's.
Reggie Bullock, SG/SF - UNC
--Chris Mannix of SI.com has the Wolves selecting 6'7" small forward Bullock at #26. The junior is another big time shooter from downtown (44%); I guess everyone got the message that we sucked at 3s last year. Like Hardaway, he's not a great ball handler and is considered a spot up shooter. Reggie has a nice balanced jumper with a quick, high release. He averaged 6.5 rebounds in 2013, but is unlikely to be inside as much as he was at UNC.
Tony Mitchell, SF/PF - North Texas
-- 6'9" 236lb athletic power forward has a 7'3" wingspan and can get up there for those Ricky Rubio lob passes and finish. He's considered a very good defender at multiple positions and a shot blocker. He did shoot a relatively low percentage from the field for a big man (43.7%) and wasn't great from deep (28.9%). The biggest red flags are the decrease in production in a lot of categories from his freshman year to sophomore year (2013) and the fact that he admitted he didn't give his all last year. Some say he has lottery talent, and I'm more of the opinion to try for some upside at 26 than get a guy that's "safe" and is your 9th/10th man.
Glen Rice Jr. SG/SF - D-League
-- 22yo Rice ended up in the D-League after bombing out of Georgia Tech. He was a big scorer, averaging 13ppg during the regular season and 25ppg in the playoffs. Rice is just 6'6", but has a 6'10" wingspan. Rice is a scorer - he can get in the lane or shoot it from deep. He's clearly a knob-head though and could create some headaches. He's also not super quick, streaky and kind of a poop defender too. What's not to love?
Others Players of Interest:
Tony Snell
/
Allen Crabbe
- Both are junior shooting guards; from New Mexico and Cal respectively. Both are lights out shooters that are in the 6'6"-7" and 200lb range. Snell is the better ballhandler, while I think Crabbe is the better overall scorer. Both have a little bit of the soft label.
Jamaal Franklin
- I've seen this guy anywhere from 15 to 30. He's a 6'5" small forward from San Diego St. that appears to be riding a little bit of a hype train after the value that former teammate Kawhi Leonard proved to be for the Spurs this year. He's super athletic and has a good mid-range game. Has a crazy 6'11.25" wingspan; which combined with his athleticism helps him on both ends of the floor. Only shot 28% from 3 and turned the ball over quite a bit as the main guy at SDSU (3.4 TO/G)
Gorgui Dieng
-6'11" center is already 23, but is a solid defender and rebounder and isn't completely useless around the rim. If the Wolves go wing at #9, some big man depth would be welcome here. Just please don't let it be
Colton Iverson.
Rudy Gobert
- Stretched out French big man is 7'2" with a whopping 7'9" reach. He turns 21 in June and needs to eat a lot of sandwiches to hang in the NBA. There's a decent possibility he'd be an overseas stash for a year or two. Probably doomed to a nickname like the Eiffel Tower.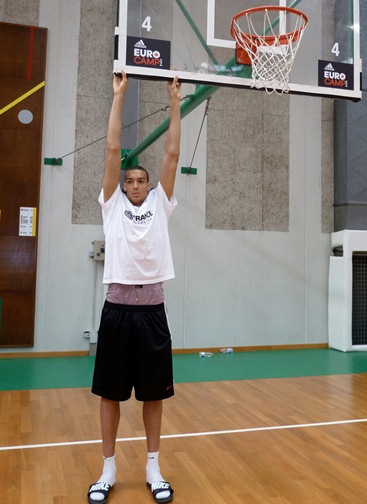 Giannis Adetokonbo
- Athletic, 6'9" Greek (via Nigeria) dude with a 7'3" wingspan. He doesn't turn 19 until December and is considered a high risk-high reward guy. He played in the Greek A2 league and had no one to stop him from going dunk-monster on everyone overseas. (averaged 8pts, 5rebs) He has the size and speed to guard multiple positions on the front line. His jumper is a question mark, although he did shoot 31.3% from 3, so perhaps he can develop.