This has been a pretty wild and exciting off-season for baseball nerds. A lot of big names have changed teams. Some of the biggest moves include:
Both Uptons are in Atlanta now. Along with Jason Heyward they have a pretty sweet Soul Patrol™ going.
The Blue Jays have all of the Marlins' players except Stanton now as well as batting champ steroid monster Melky Cabrera.
The Royals gave the top prospect in baseball (Wil Myers) to the Rays for Big Game James.
The Red Sox sign Mike Napoli's zombie knees and Stephen Drew's zombie everything.
Josh Hamilton went to the division rival Angels who now have Trout, Hammy and Pujols.
The Dodgers payroll is like $900MM and they've added Zack Grumpy.
The Indians are active getting Michael Bourn as well as a multi team trade where they got Drew Stubbs and Trevor Bauer.
On a related note, the Diamondbacks are completely dismantling because they're jealous of the Marlins. The Twins should call about Ian Kennedy while the getting is good.
The D-Backs even got rid of drunky Mark Grace
The Twins did some stuff too, although none of it was on the level of the above. GM Terry Ryan acknowledged they had money to spend and offers out there. However, what we ended up with and, more importantly, when we ended up with these players seems like a failure from what we know (nothing). One has to believe that some of the available players told the Twins to suck rocks when they received offers. I'm looking at you Joe Saunders and Brandon McCarthy. A quote via Darren Wolfson at AM1500:
Twins GM Terry Ryan acknowledged that he's waiting to hear from some free agent starters, saying it's "just a matter of their interest in us." Ryan elaborated, saying "I don't know why somebody wouldn't want to come here who's a legitimate starter." Owner Jim Pohlad told Wolfson "there's definitely payroll flexibility" should Ryan find the right player.
So, there's this overall impression that no one wants to come to Minnesota and pitch for a shitty, 60 win team. The Twins therefore are left with a couple of options, try and get undervalued players at an affordable price or go KC Royals and overspend big time on free agents. (Jeremy Guthrie 3/$25)
"Any of you bros wanna sign me, bro?"
Now that pitchers and catchers are starting to report and most of the free agents have found home except for Kyle Lohse and his pie-in-the-sky asking price, we can take a look at the moves as a whole and see where we pissed the bed.
The Good
The Twins needed more pitching. Their depth was in the outfield. They made moves to add pitching both for now and for the future and gave up some of the outfield depth. As I stated before, I thought they should have landed one extra mid-level prospect in the Meyer for Span deal, but the desired effect was met here. Span is also a bit overrated in my opinion. His cheap contract and 3 WAR are often mentioned. That cheap contract however is $5MM this year, $6.5MM next year and a $9MM option in 2015. And a big part of
WAR is baserunning and positional scarcity
. The average centerfielder for example hits 14 homers and has a 261/326/410 line and 25 steals. Sounds almost exactly what a Mastroianni/Hicks split would be. Span had a better average and much better OBP than those numbers, but stole less bases and hit less homers.
Revere is another guy along these lines and while I was surprised to see him get moved right after Span, I liked what they got in return though. For all of Revere's incredible speed and range in the outfield, I believe he needs to hit .300 to be valuable at the plate since he walks just over 5% of the time. Unlike Span though, Revere would have been a free agent in 2018, so he was under control for several more years. The return for Revere though was Vance Worley and Trevor May. Worley is a middle of the rotation starter that will be thrust in as a top end guy for the Twins and May has solid upside and is not far from the majors himself. Both are under control for some time;
VANIMAL
is also a free agent in 2018. Also, I'm a huge Trevor May fan now since responded to my twitter question about Taco Bell:
@tretanic the infamous CGC. Cheesy Gordita Crunch.
— Trevor May (@Trevmay54) February 14, 2013
The Bad
Fangraphs disagrees with the Span trade as being a good deal. They list that and the signing of Kevin Correia among the
10 worst transactions this off-season.
And the more that one is looked at; especially compared to other signings, the crappier it looks. This is a guy that got $10 million over two years while a guy like Jair Jurrjens, who has injury issues, but is a former all-star and just 27 got just $1.5MM guaranteed with incentives that could get him to $4MM. Former all-star and 17 game winner Joe Saunders got $6.5MM. An actual proven vet that has busted 200 innings a few times for just $1.5MM more. For just a tad more, Brandon McCarthy was signed (2yr/$15.5MM). Soft tosser (but proven vet) Shaun Marcum only got $4MM. One has to wonder if Ryan overplayed his hand early by jumping on Correia (bad) and Pelfrey (potentially not so bad) and scared off some of the better options with his poo poo of middling arms.
Prove me wrong, Kevin. Please?
The Ugly
The Twins added a ton of arms and some youth, but none of them are close to a guaranteed thing. They're either cripples (Harden/Pelfrey), mediocre (Correia) or unproven (Diamond and just about every dude that pitched last year and even Worley to a degree). Guess what else isn't a guarantee? Just about all of the position players. Other than Willingham and Mauer and possibly a Morneau/Doumit frankenstein situation, they're all either bad or unproven. Middle infield sounds like Florimon and Dozier with Jamey Carroll's elfen magic mixed in. Plouffe is far from a sure thing at 3B and Parmelee, Mastoianni, Hicks, Benson etc. all have a lot to prove before they can be considered major league players.
A Few Other Twins Spring Training Faces to Watch
Rafael Perez RP
- Hot off the presses! The Twins just signed former Indians lefty reliever Perez. He had a bum shoulder and we love that shit, so they signed him to a minor league deal. Prior to last year Perez was solid, posting a career 3.64 era. He doesn't throw hard, but it doesn't matter because he generally only faces lefties and throws a slider a whopping 60+% of the time.
Josh Roenicke RP
- Roenicke is a reliever that has spent most of his career in the minors but at age 30 is coming off of a solid season for the Rockies as a middle reliever. He features a 92-93mph fastball and an 84mph cutter as his main pitches.
Deolis Guerra RP
- Guerra is the last remnant of the Johan Santana trade that neither the Twins nor the Mets are likely very happy about. He spent the majority of 2012 in AAA and had his ups and downs. He'll be 24 in April and needs a huge spring training to make the club.
Oswaldo Celestino Arcia OF -
I'm an Arcia fan. He may not make the team out of spring training but a good showing here and a solid start in AAA would make him a top choice for a call-up. Also, don't be surprised if he's slotted to RF and Parmelee moves to 1B if the Twins move Morneau this year. John Sickels called him the "Venezuelan Jason Kubel."
Jeff Clement, C/1B -
Here's a nice article by Tommy Birch of the Shreveport Times on Clement.
Clement was once a big time prospect and is now grasping at straws for a chance in the majors. He was selected 3rd overall in 2005 in a class that had Justin Upton and Alex Gordon ahead of him and Ryan Braun and Ryan Zimmerman behind him. As the article states, the Mariners were going to take Tulowitzki at 3, but they changed their minds; Andrew McCutchen was also a first rounder in this draft. The 29 year old is now on a minor league deal hoping to catch on with the Twins. I'm pulling for him and anything that gets us less Drew Butera, who by the way is making $700,000 this year. Dads, get your behind the plate early! Clement can certainly hit better than Butera...he posted a 276/340/486 in AAA for the Pirates last year and had 16 homers.
Mark Sobolewski, 3B -
Sobolewski could be a dark horse to press Plouffe for time at 3B. He's a plus defender and has some pop, hitting 18 homers in AA last year. However, his move to AAA wasn't so sweet... he hit .188 there in 86 PAs. He's a rule 5 pick which means the Twins would have to give something to the Jays or return him if he doesn't stay on the MLB roster.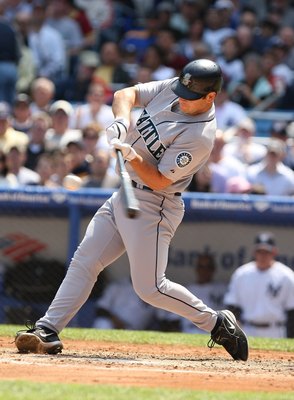 Clementza!