Since DWG hates you and doesn't want you to have any more draft info because the Twins are likely up to their same old tricks that have left them with a mostly devoid minor league system I thought I'd tack on a few notes.
#32 Overall: Jose Orlando Berrios, RHP - Some Puerto Rican HS called Papa Juan's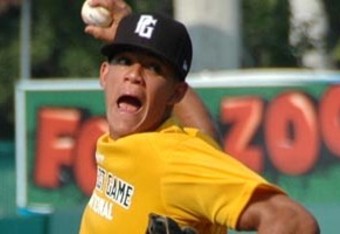 Any time you can get a Puerto Rican with a whole bunch of names you have to do it, right? Watching on MLBTV their version of Mel Kiper (who looks like a really pale Martian) said this is the part of the draft where teams start drafting high-schoolers with upside. He didn't specifically refer to Berrios, but he fits that mold. Ok, I just looked this draft expert guy up and his name is Jonathan Mayo. I have no idea how he puts his size small t-shirt on over that head.

Jonathan Mayo
Berrios has a 92-95 mph heater, which is good considering he's just 18. He throws from a 3/4 arm angle and has a slider type thing and a change. They're both inconsistent for him and in general he's a bit wild. He's 6'1" 190lbs, so he's not exactly a giant out there and his arm will probably fall off. Here's a vid of him throwing it around like the boys:
#42 Luke Bard, RHP - Georgia Tech
Bard has a low to mid 90s fastball, a power slider and an older brother that just got sent down to AAA Pawtucket by the Red Sox. By most accounts he's destined for the bullpen, which is ok I guess, but it makes me feel like this pick is a reach. DWG has said it, you convert your starters that don't have a second or third quality pitch to relivers. Most of the time you don't start them out as a reliever. Although there are some exceptions like Drew Storen, Huston Street, etc. In his college career Bard made 5 starts in his 55 appearances. He walked 39 in 100 IP and struck out 97. To be fair though, he was shelled as a freshman and his last two years have been pretty stellar. He had a 0.99 ERA in 25 IP in 2012 before his season was cut short due to lat (back) injury.
The biggest problem with Luke is when has a Luke ever been successful? Did I mention his middle name is Francis?

Harangody

Hughes

Jackson

Lid Off

I guess it's this guy.

  

#63 Mason Melotakis, LHP - Northwestern State School for the Blind

LANKY!
 Lefty closer guy that throws 96 MPH and has a decent curve. Surprisingly, this is the 2nd highest a player from this school has gone. The Angels took
future HOFer
Brandon Emanuel 61st overall in 1998.  Mason's TWELVE saves rank 3rd all-time in school history. He had 129 Ks in 127 college innings and walked 43.
#72 J.T. Chargois, S/R 1B-P - Rice
Here he is performing a flying knee.
Another closer? Oh, give me a break! JT also played first base full time for the Owls. MLB.com says his heater is 95 with movement, so there's that. He hit .323 last year as well, but with no pop at all, so don't expect any Babe Ruth shtick here. 9.08 K/9 and 2.87 BB/9 last year as the closer.
#97 Adam Walker, R/R OF - Jacksonville University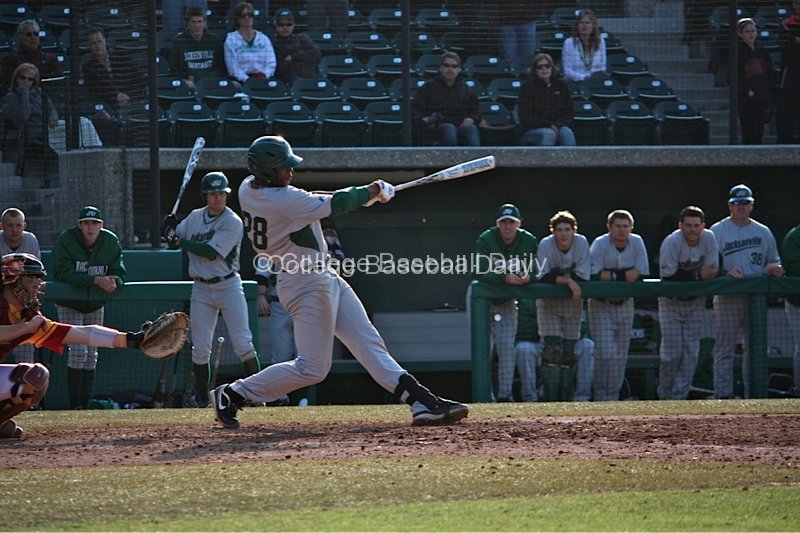 BANG
6'4" 225lb beast-man that is the son of a former Viking RB by the same name. Going for power like this seems outside the Twins' playbook, so I dig it. Walker hit .343 with 12 homers in 55 games and also stole 19 bases (and made 11 errors).

#130 Zack Jones, RHP - San Jose St
Zack was drafted in the 24th round in 2009 by the Royals. Suck it Royals, we have him now! He was primarily a starter, but also led the Spartans in saves. :headslap:
#160 Tyler Duffey, RHP - Rice
Slider!
Rice is usually pretty good at baseball, so I guess we can just draft all of their dudes. Another reliever.
#190 Andre Martinez, LHP - Archbishop Jenny McCarthy HS
Looks like this guy is a FSU signee so we'll have to see how much he likes Florida.
#220 Jorge Fernandez, S/R Catcher - Colegio Hector Urdaneta
This is apparently the only picture of Jorge on the interwebs.
The Twins definitely could use some catching depth in the system. However, even though MLB.com lists him as a catcher, it looks like he's an outfielder and pretty fast (6.7 in the 60) with power upside. He's committed to Alabama State, which is no Florida State, so maybe they sign him.
#250 Christian Powell, RHP - College of Charleston
Sweet hat.
Christian was the Southern Conference player of the year. He has good size at 6'4" and 219 lbs and was drafted in the 47th round in 2009 by the Indians. Wait, are we just copying off of our division rival's old draft lists? His fastball is in the low 90s...so, you know, welcome home.
#280 LJ Mazilli, 2B - UConn

Lee
 
LJ
 
Ok, so pretty much the only reason I wanted to follow up was to get to Lee Mazzilli. Lee Junior (assuming) raked at UConn and his dad was a total badass. Lee was kind of a long time utility player type, mostly with the Mets, and he's done a little coaching and managing. This has been happening for awhile now, but it's both cool and kind of sucky because I'm officially old when the sons of players I've seen play are now playing. I've seen some other internet knobs say LJ was projected higher and is a bit of steal. By most accounts his defense and speed are nothing amazing, but this ability to hit for average with a little bit of pop is pretty sweet.
#310 DJ Baxendale, RHP - Arkansas - 91-92mph, #2 starter to a Soph
#340 Taylor Rogers, LHP - Kentucky - 6-3, 4.60 ERA, 71K in 74 IP
#370 Alexander Muren, RHP - Cal State Northridge - Threw a one hitter, doesn't strike anyone out.
#400 Erich Knab, RHP - SC HSer - Signed with Spartanburg Methodist College, I think we can get him. "...they have great players like Joe Mauer" - Knab
#430 Jake Proctor, OF - Cincy - Typical speedy OFer type the Twins love
#490 Will Hurt, SS - KY HSer - Insert your favorite William Hurt joke here. I'll go with "Broadcast News: Twins draft Will Hurt"
#520 Dalton (DJ) Hicks, 1B - Central Florida - 6'5" 230lb lefty 1B. POWER. .316 with 14 homers in 62 games.
#550 William LaMarche, RHP - CA Juco - :shrug:
So, to recap...they have taken one million pitchers, but a lot of the earlier picks were relief pitchers. They also made a couple of power plays, which you have to like. No catchers to date, so you have to think a few are yet to come.