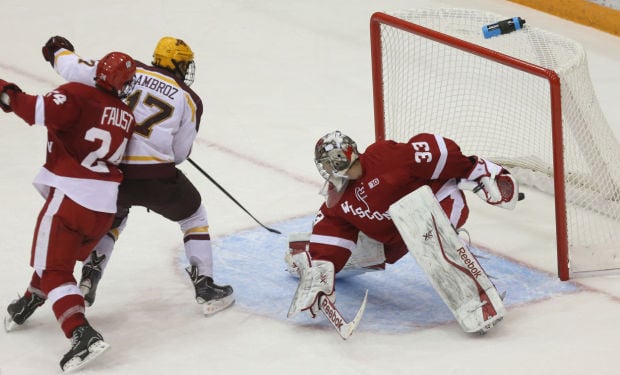 Kyndell Harkness
Welcome to December in Minnesota! Suck It Bucky! Sweep, Sweep, Sweep! The Gopher Hockey team started off the Big Ten Conference right with a two game sweep of the evil red menace, and now looks forward to its first Big Ten road series, and last two games in 2013 at Michigan State.
Friday night's game looked a lot like last Friday's game against UMD. Once again the Gophers got off to a slow start as Joe LaBate put the Badgers up 1-0 early in the first period. However, the Gophers struck back quickly on the power play as Mike Reilly scored his Big Ten Defenseman high sixth goal of the season to knot the game at 1. Four minutes later Seth Ambroz scored his first goal of the season off the back of Badger sieve Landon Peterson's skate and into the net to make it 2-1 Gophers. For Ambroz, it was just the start of a very productive weekend.
The second period went by scoreless as neither team dominated play. Adam Wilcox made several nice saves for the Gophers in net, and Peterson returned the favor for the Badgers. In the third Connor Reilly made it two times in which he and his brother have scored in the same game this season to put the Gophers up 3-1. After Peterson was pulled with about two minutes left in the game, Ambroz got a nice pass off the halfboards from Ben Marshall and he hammered home toe empty netter to complete the 4-1 Gopher win.
Saturday's game got off to a familiar start, as Frankie Simonelli put Wisconsin up just four minutes into the game 1-0. The Gophers countered back immediately less than a minute later when Kyle Rau found himself all alone in front of Joel Rumpel with the puck and went top shelf to tie the game. Unlike Friday, the Badgers had more than one goal up their sleeves however, and Nic Kerdiles scored with five minutes left to make it 2-1 Badgers into intermission. In the second the only goal was scored by Ambroz, who recieved a pretty pass from behind the net from Tom Serratore and put away his second shot attempt after Rumpel stopped the first one.
In the third period, Minnesota took their first lead of the game when Brady Skjei slid a seeing-eye wrist shot past Rumpel to make it 3-2. Micheal Mersch countered for the Badgers halfway through the third with a redirection goal to tie it at three, and that how it stood until 26 seconds were left in the game. Travis Boyd redirected a puck toward the front of the Badger net where Ambroz put the puck past Rumpel for his second of the game, and fourth of the weekend to put Minnesota ahead 4-3. Wisconsin pulled Rumpel, but never got a good shot on Wilcox, and the Battle Hymn rang out through out Mariucci.
Ambroz quite deservedly was named the Big Ten First Star of the Week, after his four goal weekend. The streak of having a Gopher player named a star every week so far this season continues on. Unfortunately Sam Warning's point streak came to a close. Warning was kept off of the score sheet all weekend long. The Gophers continue to be the #1 national ranked team for the seventh consecutive week. Also, two Gophers were named to the preliminary roster for the US World Junior Team this past week. Both Hudson Fasching and Brady Skjei were named to the team that Gopher coach Don Lucia will head in Malmo, Sweden after Christmas. Both players and Lucia will miss the Mariucci Classic.
Big Ten Road Battle #1
Once again the hockey team will look to avenge the football team a week after its loss to a tough Michigan State squad. It will be the first Big Ten Road games for the Gophers, and the first ever series for the Spartans. The Gophers played Michigan State in a home series last season, and easily swept the Spartans 5-1 and 7-1. Rau leads the Gophers with four points in four games against the Spartans in his Gopher career. The Gophers have not been as god at Munn Arena in East Lansing lately however. The Gophers tied MSU and lost in a two game series in a post-Thanksgiving series in 2011. The Gophers are 4-2-4 in their last ten against MSU and are 103-43-12 all time against the Spartans.
Michigan State is coming off an impressive sweep of Princeton last weekend. The Spartans won 4-2 Friday and then came back Sunday and put up 8 goals in an 8-2 win. Senior forward Greg Wolfe scored two goals in Sunday's tilt for the Spartans. He leads the team in scoring with ten points and seven goals on the season. Sophomore Jake Hildebrand leads MSU in goal. He is 4-5 with a 2.5.57 goals against average. Senior Will Yanakeff has played in three games this season for the Spartans and is 1-2. Other players to watch for MSU will be Senior Defenseman Jake Chelios, son of long time NHLer Chris Chelios. Freshman forward Mackenzie MacEachern is also scoring at a decent clip, with eight points in twelve games.
The Gophers should have no problem sweeping this weekend if they play on their game. The Spartans have some talent, but not enough o keep up with Minnesota if they are playing at their peak. I see the Gophers winning 5-2 Friday and 4-3 Saturday. The Friday game will face-off at 6:00 central and will be broadcast on FSN +. Saturday will face-off at 3:00 so Michigan State fans can watch their football team get killed by Ohio State that night and will be broadcast on FSN North. Both games will be streamed on BTN2Go. Friday night's game will be on AM1500 on radio, and Saturday afternoon's game will be on 107.1 FM.
What they are saying on the Twitters
Michigan State hockey team is coming in to eat at my work tonight! #oohlala ;)
— Jules Boyden (@Juelz_boy) December 5, 2013
Food poisoning in play??
Alright Kids. who wants to see the first B1G Hockey game in MSU History? I have a pair for tomorrow night. Respond by 5:00pm. Random draw.
— Scott Moore (@ScottMoore32660) December 5, 2013
Hmm...think these seats would be more popular
Extra tickets to the msu hockey game tomorrow, holla 👌
— Nolan Arendt (@thattonekiid) December 5, 2013
Seems to be a trend....
Does anyone want to go to the MSU hockey game tomorrow night?
— Annette Stromberg (@a12r22s) December 5, 2013
I'm pretty sure you can easily find tickets
@MSU_Hockey @B1GHockey looks like another sweep
— jd melvin (@jdmelvin1990) December 5, 2013
Yep...for the Gophers