Season Record 4-1
How great are pull tabs? Did you know the rest of the nation basically has no idea what they are? The beauty of the pull tab is in the long run, like most gambling endeavors, you lose. However, since you're likely getting pissed at the bar, you don't notice another $20 here or there. But the wins...oh the sweet, sweet wins. You remember the wins. You take cell phone pics of the winning pull tabs (or at least I do). You send them to your friends exalting yourself as the greatest gambler the world has ever known. You do shots in celebration and end up taking a cab home that probably costs more than your net winnings. It's wonderful.
MarQueis Gray is not on the injury report! Tommy Olson is not on the injury report! In fact, the team pretty much took full advantage of the off week to get healthy. Genius move, really, and boy do we need these guys all back because Iowa was a disaster. I've blacked most of it out by now, but I have a fuzzy memory of a lot of giant Tecmo Bowl type scoring plays for the bad guys. The defense especially needs to be on point for this one as they were exposed last week and NW can put up some points.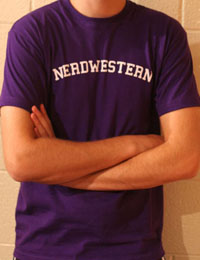 Hate you, nerds.
It's homecoming against the hated B1G geniuses, Northwestern. Also, a battle of the only two one-loss teams in the Legends division. The Wildcats have in a bunch of shootouts this year, dropping their first game of the year last week to Penn State. This is a big test for the rush defense as NW is 16th in the nation at 231.8 yards per game. They've gone to sophomore
Trevor Siemian
at QB and moved
Kain Colter
to WR, wildcat guy. Between Junior
Venric Mark
and Colter they have over 1000 rushing yards and 13 TDs. Woah.
As far as I can tell, the only worthwhile products from Northwestern are Julia Louis-Dreyfuss, Charlton Heston and Stephen Colbert. Everything else they do is terrible and diseased. Rod Blagojevich, Mike Greenberg and Warren Beatty lead the list of evil.
NW Grad
Blog Mockery
It's possible that NW has football blogs out there for me to take silly comments and mock them, but I didn't bother to look. Instead, I give you this:
How long did you make it? If you lasted more than 2 minutes, go ahead and punch yourself in the face and never return here again. We can't lose to these guys, can we?
Prediction:
It's homecoming and the last home game featured an atmosphere that finally approached big-time-college-football-home-field-advantage-type-shit. So, I expect our students to be there and be loud once again. The Gophers will need all the help they can get because Northwestern is the real deal. Honestly, Northwestern probably wins this game. However, just like the beloved pull tab, the Gophers can lose and I'll forget and look forward to the next big win. On the other hand,
this
could be that win. If they do win, I'll send you a picture of the scoreboard and I'll probably need a cab to take me home.
Northwestern 34, Gophers 24
Other Notes:
-The Tao of
Shede
for this week: "Spandex pants are not for everyone, thank you."
-Bonus Tao since we missed last week: "You wanna quit, that's fine. More food for me. Feast without you and then brag about my success."
-Favorite names on Northwestern's roster:
Pierre Youngblood-Ary
- WR,
Chi Chi Ariguzo
- LB (he's actually pretty good)
-Rapper Twista needs a ghost writer. He puts out so much bad stuff, but he raps so fast! I think I could do this. Hit me up, Twista.
-Protect the
dusky gopher frog
: http://www.sacbee.com/2012/10/02/4873109/gopher-frog-habitat-designation.html