VS.
In 2012, the Minnesota Golden Gopher football team will win more games than the Minnesota Vikings
There, I said it. Neither of these teams are going to set the world on fire, of course. This is more like a race between me and a one-legged dog dragging his ass across the ground. (the dog wins by a stump) This is a matter of looking at two teams and their opponents and their potential to exceed expectations. Point blank, there is very little chance the Vikings exceed expectations, but there is a chance that the Gophers will. Here are the top 5 reasons the Gophers will win more games than the Vikings this year.
I own TRE
The Schedule
The Vikings start with a couple of winnable games early, but unfortunately, these are games where Adrian Peterson may not play or at least will have a reduced role. Luckily, MJD might be holding out as well, so we might see a 6-3 shootout on Sept 9 vs Jacksonville. The biggest problem with the Vikings' schedule is that the other teams in their division are much better than they are. They could easily go 0-6 against Detroit, Green Bay and Chicago. Winnable games include JAC, @IND, @WAS, ARI, @SEA, @STL. Only two of those games are home games though. On the plus side, two of their three wins last season came on the road.
2012 Golden Gopher Schedule
Date
Opponent
Aug. 30
at UNLV
10:00pm
Sep. 8
New Hampshire
11:00am
Sep. 15
Western Michigan
11:00am
Sep. 22
Syracuse
7:00pm
Sep. 29
at Iowa
11:00am
Oct. 13
Northwestern
11:00am
Oct. 20
at Wisconsin
TBA
Oct. 27
Purdue
TBA
Nov. 3
Michigan
TBA
Nov. 10
at Illinois
TBA
Nov. 17
at Nebraska
TBA
Nov. 24
Michigan State
TBA
The Gophers start with four games that they are likely to be the favorite in, with the possible exception of a solid Western Michigan team. Then they go to Iowa to try to hold the Floyd of Rosedale trophy for a 3rd consecutive year. Games at Wisconsin, at home versus Michigan (58-0) and at Nebraska are all virtual locks to be losses. They've played Michigan State well and games like Northwester, Purdue and Illinois are winnable.

Quarterback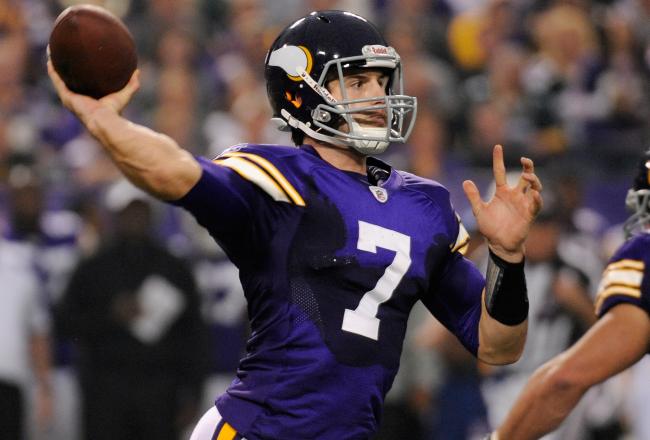 Christian Ponder was a first round pick by the Vikings one year ago and was thrown into the fire in 2011. He showed flashes and ended up with 13 touchdowns and 13 interceptions, completing 158 of 291 pass attempts. At times, he showed poor accuracy, but does appear to have an NFL caliber arm. He has a tendency to roll out to his right side when the pocket breaks down and I wonder if/when defenses will start scheming for this. I thought he was a reach at the time (Ryan Mallet lover alert) and although he hasn't been a total poopstain, I'm not sure there's a lot of upside there.
MarQueis Gray finally got his first full year at QB for the Gophers last year. He only passed at a 50.7% clip and threw 8 TDs against 8 INTs, but whoa nelly can he run! Gray ran for 966 yards and 6 TDs and had 3 games where he ran for 160+. Not bad for your first year under center. Think about this: he had 23 pass attempts total in the two years prior. He's entering his senior year at the same position with the same coaches, which hasn't happened the Carter administration. (FACT) The Gophers' success this year will be directly attributed to how big of a leap that Quis can make in 2012. I think it will be significant.
Young Players with Tremendous Upside
Anyone know who the Vikings drafted? A tackle and a white defensive back from Notre Dame, right? Anyone else? Me either. Actually, superfast corner Josh Robinson looks intriguing and
Greg Childs
out of Hawaii had some potential (RIP, Greg), but I won't let that get in the way of a good story. How about second year guys? Something called Mistral is starting in the secondary I think. One second year guy I do like is Kyle Rudolph. That dude is a stud. Let's hope while Ponder (also a 2nd year guy) is running for his life he lobs it to Kyle from time to time.
Virtually the entire Gopher team is young. Many played as freshmen and more freshmen and sophomores (duh) will get time this year. Gray and linebackers Keanon Cooper and Mike Rallis are some of the elder statesmen and hopefully they can provide leadership. Many Gopher recruits were not super-highly rated by various publications, but we've seen Kill find diamonds in the rough at both Northern Illinois and Southern Illinois. He poops on your publications. Skill positions players like Harbison, McDonald, Maye and Nelson are all exciting. There are some massive o-lineman that are underclassmen and well get opportunity. The DEs other than Wilhite are young. Even some of the old guys are new guys since they're Juco transfers. This is the gift and the curse of the Brewster regime. The slate has been virtually wiped clean there's plenty of opportunity for players to surge up the ranks like DWG climbing the Class E softball batting leaders.
Depth
I think the Vikings suffer greatly from a lack of depth. If you look at the chart, we're an ACL away from Larry Dean and Tyrone McKenzie. Former Minnesota Timberwolve Chris Carr is also on the two-deep. God forbid we get into Quentin Saulsberry territory.
On the flip side, the Gophers, while young seem to have depth at QB, offensive line and even at wide receiver (WHAT?). My friend and honored scrub
@FrothyGopher
thinks the secondary is as deep as it's been since the Wacker era. There are competitions and possible rotations all over the place, and this time I think it may not necessarily be because everyone sucks!
The Head Coaches
Leslie Frazier is just kind of a drip. He knows football, but he kind of mopes around and bores the pants off of everyone. My guess is there's a constant loop of the superbowl shuffle running through his head and it's driving him crazy.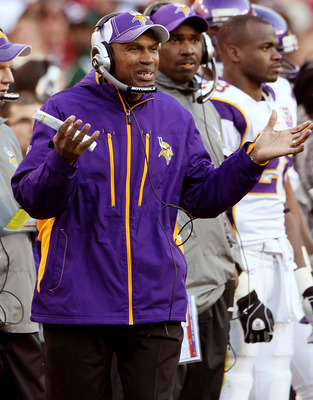 Jerry Kill gets so damned fired up that he seizes on the sidelines (please don't do that this year). He's passionate and has a little twang in his voice that we all enjoy. Also, he looks like a Gopher, how awesome is that? I think that if you spend time around Kill you can see that players respect him and are buying what he is selling. Of course, that's much easier to have happen in the college game.
Anything Can Happen in College Football
With a few big players stepping forward, teams can make titanic leaps in college football. I'm not projecting tintanic, but I am expecting improvement. Also, in college, big players can carry a whole team. See Denard Robinson or Robert Griffin III or maybe a Montee Ball/Russell Wilson combo. In the NFL, you need a great all around team to be succussful. Adrian Peterson and Jared Allen are possibly the best players at their respective positions, and the team stunk like my dog's breath last year. The point is, a leap by a few players can make a significant impact this year.
Prediction
Both of these teams are not going to be great. In fact, they are probably both 4-6 win teams. However, the beauty of a 6 win Gopher football team is they're back in a bowl! "Postseason!" If you put a gun to my head (you wouldn't be the first, you jerk). My months of calculations say the Gophers win 5 games this year and the Vikings win just 4. So, watch the Vikings, hope for them to improve or for Joe Webb to take over or for the Metrodome to cave in again. But also, watch the Gophers...who knows, they just might play an extra game at the ALAMO BOWL or something.
BOWLING